News Archive >> Tsuchiya Anna's Ex-Husband Joshua Dies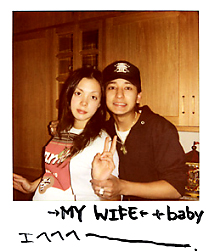 Tsuchiya Anna's
Ex-Husband Joshua Dies
Source @ [ TokyoGraph ]
Thanks for the news Mackey!
Sponichi Annex is reporting that the former husband of model/actress/singer Anna Tsuchiya has passed away at the age of 25, though no details about his death are known at the moment.
Tsuchiya, 24, married a model known as Joshua in June 2004. They had met through their modeling careers when they were both in high school. Shortly after their marriage, Tsuchiya gave birth to a son, but they later divorced in 2006.
Born in the U.S., Joshua was the younger brother of talento Friedia, who was previously known by her old stage name Rin Kozue.
A source said that Joshua died at the start of this week. A private funeral is being held, and more details, such as the cause of death, are expected to be revealed next week.
R.I.P. Joshua
Condolences to Joshua's family and Anna.
Sources @ [ Sponichi Annex || Tokyo Graph ]