News Archive >> Thee Out Mods 2008 San Francisco Tour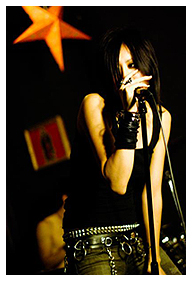 Thee Out Mods
San Francisco 2008 Tour
Full Album Release & Returning to Japan
A quick reminder for Northern California Thee Out Mods fans. The awesome band will be performing all through this weekend in San Francisco. Later today, Thee Out Mods will play first at the Anime Pavilion at the 4th Annual Asian Heritage Street Celebration. Afterwards, they will be singing their monthly Judo Chop performance at Thee Parkside (age 21 and over only). Lastly, on May 18th, Thee Out Mods will be at Bottom of the Hill (all ages).
So if you have never seen Thee Out Mods perform, please go! The band announced in early April 2008, that they will be returning to Japan this summer. For some of you, this may be your last chance to see them live! Go go! Thee Out Mods is an AMAZING band. So don't miss out!
After half a year's delay, news of Thee Out Mods' first full album is finally happening again. Posted on their official Myspace page, are news of their first album, which will be limited to only 1000 copies in print. The album is now on sale (probably at their show).
Sources @ [ Official Myspace Page || LJ Community ]