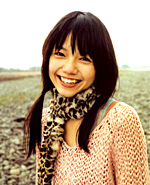 Miyazaki Aoi
& Takaoka Sosuke's
Special Wedding Day
Miyazaki Aoi and Takaoka Sosuke held their wedding on the night of March 3rd 2008 at the Anniversaire Omotesando in Aoyama, Tokyo. The actress and actor announced through their management offices the previous year, that they had registered for marriage on June 15th 2007. Now, almost eight months later, the couple finally celebrated their marriage with a wedding ceremony. The special event was attended by roughly 240 guests; of which included family, friends, and stars. Celebrities who attended were Oguri Shun, Kuriyama Chiaki, Tadanobu Asano, Becky, Tsukamoto Takashi, Okada Junichi, and many other big names.
When the tuxedo clad groom appeared alongside with his beautiful bride wearing an elegant white wedding dress, loud applause rang through the halls. And there, in view of all their friends and family, they were pronounced "Husband" and "Wife." After the ceremony in the chapel, the newly weds and their guests partied in the banquet hall, which also included cake cutting. Everyone commented that Miyazaki Aoi was an incredibly gorgeous bride!
At the very end, Miyazaki Aoi expressed her gratitude to none other than her mother: "Mama, thank you very much for raising me till this time. Even though I am now a bride, when I have my own child, I would like to raise her like my Mama has raised me..." And she was promptly moved to tears.
Miyazaki Aoi and Takaoka Sosuke met over seven years ago, through a mutual friend. It was revealed that last year, on March 3rd 2007, was when the two decided that they would be together always. So for their actual wedding to occur on March 3rd 2008, was to commemorate the important decision that was made the previous year.
Although the wedding was a huge event, the press was barred from entering, so that family, friends, and the couple can privately enjoy themselves. Which is how it should be! Its Miyazaki Aoi's special day!
Congratulations Aoi and Sosuke!
We all hope you will live happily ever after...!!
Sources @ [ Sanspo || NikkanSports || Sponichi Annex || Sports Hochi ]