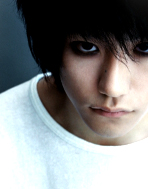 Their Current Whereabouts
News from TOKYOGRAPH
Matsuyama Kenichi stars in
"L Change the WorLd."
"L change the WorLd," the movie spinoff of the "Death Note" franchise, is being released in novel form on December 25. The news was announced through the movie's website on Friday.
The movie, which opens on February 9, covers the final 23 days of L (played by Matsuyama Kenichi), which is not part of the original manga or films. To create the story, producers turned to a well-known author, who at the time had not yet read the original work.
The writer is not attaching his or her name to the novel; instead, it will be published under the name of "M." The name is said to be symbolic, referring to "where those who have used the Death Note go," which is "nothingness" ("mu").
The novel version reportedly includes many scenes that do not appear in the film.

Darvish & SAEKO Ties the Knot
Pitcher Yu Darvish and actress SAEKO officially registered their marriage on November 11th 2007, it was learned on Sunday. The news was announced on both of their official websites and blogs.
The date appears to have been chosen partly because Darvish wears the number 11.
Matsuda Ryuhei
Dating Ohta Lina
According to the latest issue of FLASH, 24-year-old actor Matsuda Ryuhei is currently dating 19-year-old model Ohta Lina. Late last month, the pair was seen on a date at night, walking down Omotesando hand in hand before taking a taxi to Matsuda's apartment. Ohta has also been spotted visiting the apartment frequently.
The half-Japanese, half-Russian Ohta debuted as a model in 2001. She starred in the movie "Humoresque" last year.
Matsuda reportedly confirmed the relationship. He said they started dating a few weeks ago and were introduced to each other through a friend.
Best Hit Kayousai 2007
Nakashima Mika Nominated
The award season is fastly approaching Japan again, and music fans everywhere are keeping their fingers crossed for their favorite artists to win. On this year's Best Hit Kayousai, which will take place on November 26th 2007, our lovely Nakashima Mika is once again a nominee for an award. The nominees are listed (HERE), and fans everywhere can cast a vote on who they want to win. So go right ahead and vote for who you think deserves to win!
Sources: [ Tokyo Graph || Articles Submitted by SADE || Best Hit Kayousai ]