Vivienne Westwood
xxx Friday, November 9th 2007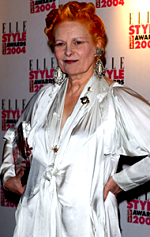 The Hollywood Movie
Confirmed to be True
[ CatWalk Queen ] - Along with three new biopics of Coco Chanel, it seems that movies based on the lives of fashion designers are all the rage right now. Vivienne Westwood let it slip at the Hay Festival earlier this week that her life will also be soon adapted for the screen. She revealed that when Hollywood producer Brian Grazer came knocking on her door she didn't realise it was to make a film about her.
"I just thought this Brian Grazer was coming to pick my brains for a film on fashion," she told the L.A. Times. "I'm not doing it from an ego point of view, that my life is so important but as a representative of a time that is really true and part of our culture and to show the potential of human beings. That interests me," she added.
Westwood's press office confirmed the project but couldn't reveal any further details.
[ Vogue UK ] - VIVIENNE WESTWOOD has always had a larger than life personality and now her life story is to be adapted for the big screen. The designer let news of the film project slip at the Hay Festival where she proved as provocative as ever this week, swearing on air and making a controversial speech on art. A spokesperson for Westwood confirmed the film was going ahead but said no further details were currently available – though the plot is likely to include Westwood's stormy marriage to pop Svengali Malcolm McLaren (which produced Agent Provocateur's Joe Corre), their involvement with the Sex Pistols and the punk scene and the designer's ascent to fashion sainthood via shops called Sex and World's End. Rumour has it that American producer Brian Grazer, who is best known for "A Beautiful Mind" and "Apollo 13," is behind the project. Just last week it was announced that two films on the life of Coco Chanel are also in the pipeline – exciting times for cinema-loving fashionistas.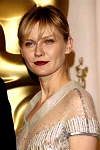 Kirsten Dunst
As Vivienne Westwood...?
[ OhNoTheyDidnt || Female First ]
Kirsten Dunst is rumoured to have been offered the role of Vivienne Westwood in a new film about her life according to Hollywood rumours.
The actress is apparently front runner to bag the role according to fashionista but nothing has been confirmed and filming will not start until next year.
The part of Westwood's partner Malcolm McLaren is rumoured to have already been given to Hayden Christiansen.
Vivienne isn't the only fashion designer getting a Hollywood calling it also being reported that Takashi Murakami is being persuaded to make a full length animation by Dreamworks boss Jeffrey Katzenberg.
Murakami is one of the most fashionable artists today. His work with Marc Jacobs for Louis Vuitton includes handbags decorated with the fashion house's logo in 33 different—and very bright—colors.
He also inspired the cherry blossom logo that became an international hit for LV about four years ago.

Vivienne Westwood
Returns to Her Roots
[ Los Angeles Times || October 25th 2007 ]
Over a 30-plus year career, British fashion designer Vivienne Westwood has swung from punk to Madame de Pompadour.
In her collaboration with the Rug Co., she appears to be working her way back to her rebellious roots. After producing plush rugs with romantic florals, she created a flat woven Aubusson Union Jack, a design that proved so popular it launched a line of pillows. The latest additions to the collection include "Mouth," a Pop Art rendering of a woman's lips, and "Westwood," this hand-stitched pins-and-badges needlepoint cushion in wool and silk. At $575, it's a pillow that probably won't be found in UCLA student housing.
Sources: [ CatWalk Queen | Vogue UK | OhNoTheyDidnt | FF | L.A. Times ]
"SouthBound" Greetings
xxx Sunday, October 14th 2007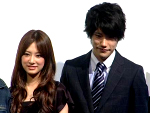 On October 13th 2007, director Morita Yoshimitsu, actress Kitagawa Keiko, and actor Matsuyama Kenichi appeared on stage at the Cine Canon Yurakucho theater. Their presence there was to celebrate the new opening of the movie "South Bound." Director Morita Yoshimitsu praised Keiko and Kenichi by introducing them as "The Young Aces of the Morita Group." Kenichi took the compliment in with a big smiling face. He commented that with the director's praise, he won't have to worry about work for a while! Keiko and Kenichi was giggling the whole time! They were so cute!
[ MegaUpload || 4 Min 18 Sec || 9.69 MBs ]
Award Season 2007
xxx Tuesday, December 4th 2007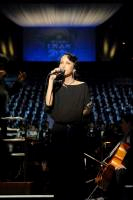 Nakashima Mika
Award Season Schedule
Winter 2007
First and foremost, congratulations to Nakashima Mika! The list of highly coveted artists for the annual NHK Kouhaku Uta Gassen have been announced and shows that Mika will once again be performing at the event. This is a very big honor, as only the most recognized and successful artists (in that particular year) are invited to perform. And this will be Mika's sixth time on the show, no less! Much congrats!
Nakashima Mika's schedule for the award season of 2007 is quickly filling up. On her Official Site, she is scheduled for the following:
+ December 5, 2007 - 2007 FNS Kayousai
+ December 11, 2007 - 2007 Best Artist
+ December 23, 2007 - 25th Annual Suntory's "No. 9" of 10 Thousand People
+ December 31, 2007 - 2007 NHK Kouhaku Uta Gassen
On December 2nd 2007, was the date which Nakashima Mika performed as a special guest for the "25th Annual Suntory's No. 9 of 10 Thousand People." She appeared on stage barefooted, dressed in a classy black dress. Under the musical direction of Sado Yutaka, Mika sang three songs which included the hits "Life" and "The Rose." The song "Silent Night" was performed together with a chorus of ten thousand people!
Mika expressed, "Although I was feeling nervous, it was extremely wonderful." The program will be broadcasted on December 23rd 2007 on MBS.
Nakashima Mika, who is famously known for changing her "look" every now and then, have been sporting her line-straight bangs for nearly half a year now. Rumor has it that her image will once again be going through a change very soon. Mika was seen doing a magazine photoshoot under the guise of a lady club singer of the 1920's and 30's. The look was said to be very seductive with dark eyeliners, red lipstick, and curly hair; All of which was supervised by Mika herself. The set of this photoshoot took place at a night club which was built in 1931. A lot of detail was said to be put into this photo session, with Nakashima Mika greatly contributing artistically to the project.
Sources: [ Orisun || Daily Sports || MikaNakashima.com || Yahoo Japan ]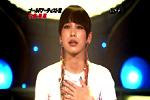 Best Hit Kayousai 2007
Nakashima Mika - "Life"
11/26/2007
The 2007 Best Hit Kayousai came and went this year, awarding deserving artists for their outstanding talent and achievements. With the release of her album "YES" early in 2007, and additional success from her singles "Life" and "Eien no Uta," the accomplishments of our lovely Nakashima Mika did not go unnoticed. Once again, Mika was honorably invited back to perform and receive recognition for her hard work at the "Best Hit Kayousai." This year, she gave a wonderful performance of her pop hit "Life." Thank you to Tokyo-Time at Jpopsuki for the super high quality video of Mika's live.
[ MegaUpload || 2 Min 39 Sec || 276.74 MBs ]
"NANA" Anime Fansubs
xxx Thursday, November 8th 2007
"NANA" Episode 42




Fansubbed by IY-F&Oki




"NANA" Episode 43




Fansubbed by IY-F&Oki




[ MegaUpload | 23 Mins | 176 MBs ]

[ MegaUpload | 23 Mins | 171 MBs ]
"NANA" Movies Licensed
xxx Thursday, November 1st 2007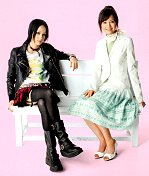 By VIZ Pictures
In Theaters Early 2008
By Anime News Network
Viz Pictures, the movie distributor linked to Viz Media, has confirmed its live-action film licenses for "Honey and Clover," "Love*Com the Movie," and both "NANA" movies. All four movies are based on shojo manga that Viz Media has released in English under the Shojo Beat label.
The "Honey and Clover" film will screen in select cities starting in December. Like Chica Umino's original manga, the film deals with the interwoven school, work, and love lives of five art college friends. The manga also inspired two anime series of the same name which Viz Media has licensed.
The "LoveCom" film will have a premiere at December's New York Anime Festival (NYAF) before its February DVD release. It adapts Aya Nakahara's humorous romance manga of a tall high school girl who falls for a short guy.
The much-anticipated first "NANA" movie about polar opposite roommates will also premiere at NYAF before a limited theatrical release in early 2008, followed by another theatrical release for the second movie in spring 2008. The two films center around a female punk rocker and a naive small-town girl — both named Nana — who end up as roommates and best friends as they deal with the fast-paced reverie of life in Tokyo. As with "Honey and Clover," Viz Media announced that it had licensed the television anime series of "NANA" at Comic-Con 2007.
Sources: [ Anime News Network || Article Submitted by Mackey Hiromu ]
Purple Sky Magazine
xxx Wednesday, October 31st 2007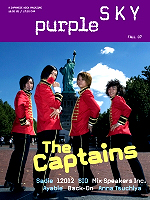 Fall 2007 Issue
TheeOutMods, Anna, Olivia
Pacific Media Expo Info
[ PRESS RELEASE: ] Add a little indie to your life this fall. The Captains and other indie acts are fighting for top billing, from fan favorite visual-kei artists like SID and Ayabie, to fresh faces like Back-On, Thee Out Mods, Sadie and ex-Psycho Le Cemu members seek and Aya's new monster mash, Mix Speaker's, Inc. But don't think the majors aren't in the mix, we have an exclusive you'll-never-see-this-in-Japan photo shoot and interview with hard rockers 12012, as well as Acid Black Cherry, Anna Tsuchiya, LM.C and Plastic Tree's Arimura Ryuutarou, following the band's groundbreaking performance at the Nippon Budokan. Its all going to happen in the Fall 2007 issue of Purple Sky magazine. Find the issue soon at a local Barnes and Nobles, Borders, or Hot Topic store near you.
[ OLIVIA'S GUITAR: ] The Pacific Media Association (a.k.a. PMX) is proud to exclusively offer a beautiful Roswell Rhoads Jackson custom electric guitar autographed by Avex recording artist OLIVIA and her band during her American performance premiere at Pacific Media Expo. OLIVIA fans will recognize this distinctive instrument from her acclaimed "Into the Stars" PV. All auction proceeds will be used to create a special fund for the purpose of benefitting aspiring Asian and Asian-American artists. -----> Auction Site
[ SIDE NOTE: ] Thee Out Mods will be performing at this year's Pacific Media Expo (a.k.a. PMX). They've been making the rounds at conventions like "Anime Vegas" and "Ani-Magic," scoring a new wave of fans and some awesome reviews. So don't miss out on their PMX performance on November 10th 2007!
Sources: [ Purple Sky Magazine || Thee Out Mods' Myspace || PMX ]














xxx Tag Board

+ Be respectful at ALL times.
+ No whining about fansubs.
+ No artist bashing.
>> Tag Board Rules <<

xxx The Hostees

Check out the local hostees! With so much talent and eye candy, their web sites will blow you away! Promise! ^__^