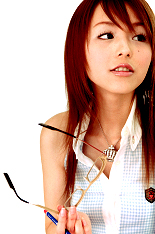 Ask Aya
"Haruhi is a revolutionary."
NEWTYPE USA - 09/2007
"Haruhi is my biggest rival now."
Young voice actress Aya Hirano made a career breakthrough playing Haruhi, the spunky heroine of the mega-hit anime, "The Melancholy of Haruhi Suzumiya." Here she shares her thoughts on her role, the recording experience and more!
Looking back, how were the recording sessions overall?
I had met Yuko (Goto) and Minori (Chihara) at the first recording for the SOS Brigade radio program, but the first anime recording was the first time all five of the main cast members were together. I was a little nervous because I wasn't sure if we could get in sync, and the staff seemed to be worried about it too. But once we ran through our lines together, everyone was convinced that we were the perfect SOS Brigade, and that made me very happy. There was a great atmosphere in the studio throughout the series.
The recording was done out of sequence just like the Japanese broadcast, so it was very confusing. In one episode, Kyon and Haruhi would be all lovey-dovey, and then in the next episode, Haruhi would be a total grouch. But we helped each other by constantly discussing the characters' relationships. Also, we had a good relationship with the production staff, and every time we finished one episode, they'd give us useful advice for the next one, which helped me a lot. But I still had to think carefully about how to play Haruhi in each episode, and that made me feel even more deeply involved with the show.
Which was the toughest episode, and how did the recording go?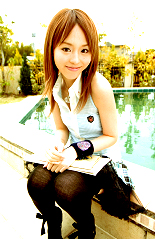 "Live Alive." I was told tat this episode would determine the success or failure of the series, so I threw everything I had at it. The recording booth always made me nervous in the first place, and hearing that just made me feel even more pressured. In the episode, Haruhi reveals a part of her personality that doesn't show very often -- I was supposed to express hesitation and confusion. Later I was told that my first lines literally sounded shaky, that's how nervous I was. I hadn't realized I was that bad.
I also had a real hard time recording the two insert songs: "God Knows," and "Lost my Music." To create the groovy and tense atmosphere of a live performance, I sang all of each song in one go, beginning to end, instead of recording each section separately. The hardest thing was making sure the song would impress the audience. The key change toward the end of "God Knows" was difficult too. I had to practice it a lot.
How do you think those experiences will affect your future work.
I'm proud of being able to play Haruhi. At the same time, I feel like I'm just coasting on her success. Right now, I consider Haruhi my toughest rival, and my goal is to become better than her. One other thing -- I had a chance to sing some rock in the show, and I've decided that I'd like to continue in that genre. I'll always keep in mind that the most important thing is to touch the audience's hearts.
Objectively speaking, what do you think of Haruhi?
She's awesome. She's not just doing whatever she wants for no reason -- she's honestly trying to have fun. It's just that she tends to go overboard. Everyone around her gets bossed around as a result, but eventually they understand her intentions. They know and appreciate that she's the source of that vital spark that fills them all with energy. The way she behaves in front of Kyon is just adorable.
Finally, what does "Haruhi" mean to you?
It's revolutionary. It's changing my entire worldview, and I'm glad to be a part of it.
Sources: [ Hirano Aya's Official Site ]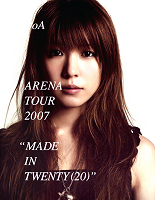 Note from Lisa:
Hey everyone! I have the original scan of Hirano Aya's interview located here. She makes a lot of side comments in them, so Aya fans should look that up! Also, we have half of Hirano Aya's "H - Stairway to 20" scanned in too. The rest will be up soon, but you can check these out for now. She's really cute and is becoming really popular. So no doubt, we'll hear more about her in the future!
Lastly, at random, I scanned in BoA's 2007 Tour Pamphlet "Made in Twenty (20)." She looks amazing in the book! Go drool go drool!