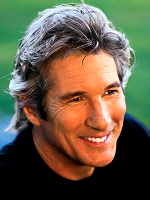 Starring Richard Gere
By Michael Janusonis
Richard Gere is scheduled to begin shooting the film "Hachiko: A Dog's Story" on locations in Bristol and Woonsocket beginning Jan. 21.
Producer Bill Johnson said over the phone that the film, inspired by the true story of a faithful dog who became a national hero in Japan, will shoot here through February. The film crew will then return in the spring "because the story takes place over a number of years and we need to shoot the different seasons."
The real Hachiko was an Akita dog who was brought to Tokyo by his owner, a college professor, in 1924. The dog would see his master off from the front door and then greet him at the end of the day at the nearby Shibuya railway station. After the professor's death in 1925, Hachiko returned every day to the station to wait for him, and did so for the next 10 years. Eventually, the new station master even set up a room for the dog to sleep in. Several articles were written about Hachiko's faithfulness and in 1932 he gained national attention when his story was printed in Tokyo's largest newspaper. In 1934 a bronze statue of his likeness was erected at the Shibuya station, with Hachiko himself present for the unveiling.
Johnson, reached by phone, said that "our film is about loyalty and friendship and dogs show that."
The house Gere's character lives in with his wife, played by Academy Award-nominated actress Joan Allen, will be in Bristol. But when he walks to the railroad station to catch his train, he will be in Woonsocket, some 30 miles away.
Although passenger trains no longer stop in Woonsocket, Jeffrey Polucha, director of economic development for Woonsocket, said the film company has worked with the Providence & Worcester Railroad, which runs freight trains through Woonsocket, to provide old passenger cars. Polucha said he has been meeting with location scout Colin Walsh for about three months working out arrangements for filming. "They've rented warehouse space and are building sets," Polucha said. "They have an office across from City Hall."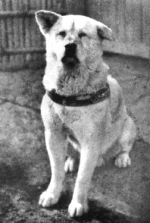 Bristol Police Chief Russell Serpa said he has met with Walsh and is going through the process of getting permission from the State Traffic Commission to close the main thoroughfare of Hope Street during filming. Serpa recalled that Bristol had its own version of Hachiko many years ago when a dog who accompanied his master to a bus stop every day and waited for him in the evening, continued to do so after the man's death.
Hachiko originally had been scheduled to begin shooting in Rhode Island last October, but shortly before filming was to begin, the director was replaced by Lasse Hallstrom who was nominated for best director Academy Awards in 1987 for "My Life as a Dog" and in 1999 for the New England-filmed "The Cider House Rules." Hallstrom's other credits include "Chocolat" and the cult hit "What's Eating Gilbert Grape?" Stephen Lindsey wrote the screenplay; this is his first-produced script.
Three Akitas will play Hachiko in the film, said Johnson, adding that they have been in training for nine months. He expects them to arrive with their trainers from California next week.
Johnson said Rhode Island was chosen as a location because of "a combination of the look and for the tax credits." (Rhode Island allows movie and TV companies that spend at least $300,000 in the state a 25-percent tax credit for every dollar spent here on food, lodging, equipment, rentals and salaries. Those credits can then be sold by the producers to wealthy taxpayers looking to reduce their Rhode Island personal-income taxes.) "Actually," Johnson added, "we're looking to bring other films here in the future."
Hachiko is being financed by his independent Inferno production company. Johnson said a distribution deal is already in place with Sony Pictures.
For Hachiko, the cast and crew will stay in Providence, the midway point between Bristol and Woonsocket.
Sources @ [ PROJO.com || Thanks to SAMI for the Info Tip-off! ]